Wisetack Dental Financing – Boston, MA
Simplified Solution for Affordable Dental Care
Are you currently not covered by insurance? Are you searching for an affordable way to get the dental care you need or want? Look no further! Our team offers financing through Wisetack—an application offering plans that make dentistry reasonably priced. With these affordable plans, you'll be able to get the treatment(s) you deserve by paying over time without needing to break the bank. On top of that, these plans typically come with low-to-no interest, and you can receive care that might not be covered by insurance, like cosmetic dentistry. Keep reading to learn what to expect from this financing option.
How Does Wisetack Work?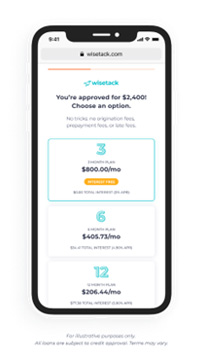 With a user-friendly platform, Wisetack offers a simplified and stress-free option for patients to finance their dental treatments. All you have to do is enter your personal information, like your name and street address, and then the application will give you a near-instant list of payment plan offers that can range between three to 24 months*. Once there, you'll simply choose the plan that works best for you and then you can start paying 100% of the dental services you get from us through the phone app. Wisetack is incredibly easy to download and the steps are simple to follow.
Want to try prequalifying for Wisetack? Simply click here !
*All financing is subject to credit approval. Your terms may vary. Payment options through Wisetack are provided by our lending partners . For example, a $1,000 purchase could cost $45.18 a month for 24 months, based on a 7.9% APR, or $333.33 a month for 3 months, based on a 0% APR. Offers range from 0-35.9% APR based on creditworthiness. No other financing charges or participation fees. See additional terms at http://wisetack.com/faqs .
The Benefits of Wisetack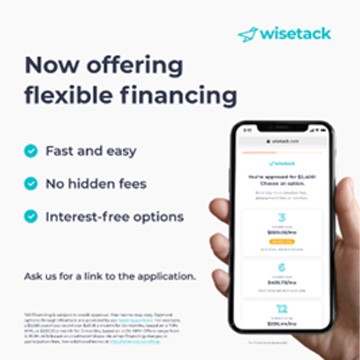 Wisetack comes with a wide variety of benefits that you won't find in other third-party financing options, such as:
No insurance forms or paperwork
No late fees
No surprise or hidden fees
Select from various payment plans
No negative impact on your credit score
Quick & easy sign-up and approval process
Used for cosmetic work, dental implants, and more
Interest rates go as low as 0% APR*
Finance treatments up to $15,000*