Implant Dentures – Boston, MA
Full-Arch Replacement Teeth That Don't Slip
After losing a whole row of teeth, you may have tried to rebuild your smile with regular dentures. Even though they certainly look like your old teeth, they just don't hold a candle to the way your smile used to feel. Your teeth never seem to stay in place, and chewing has become much more difficult. Luckily, there's an easier way! Implant dentures are designed to mimic your natural pearly whites in every way, and we're proud to offer this state-of-the-art solution here at Turning Leaf Dental. To learn more about these full-arch replacement teeth that don't slip, contact us to schedule your consultation for implant dentures in Boston!
Why Choose Turning Leaf Dental for Implant Dentures?
Dental Implants Placed In-House by Board-Certified Periodontist
Saturday Dental Appointments Available
Putty-Free Digital Impression System
What Are Implant Dentures?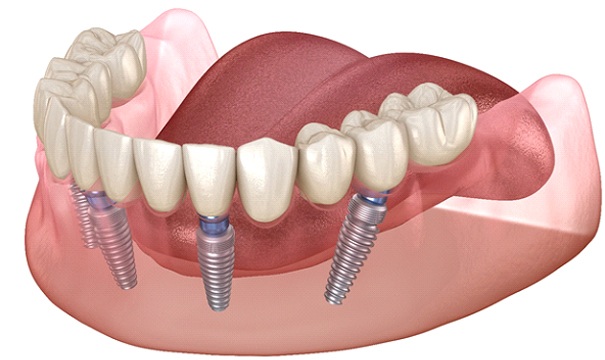 While regular dentures rest on the gums with natural suction and/or adhesive, implant dentures are anchored onto artificial tooth roots called dental implants. Because the implants are embedded in your jaw, you can count on your prosthetic teeth always remaining in place.
Depending on the state of your oral health as well as your personal preferences, your implant dentist in Boston may recommend one of the two kinds of implant dentures:
Fixed/Permanent Implant Dentures
The closest thing to having all of your home-grown teeth back, a fixed implant denture can only be removed by a dental professional. It can also be brushed and flossed like natural teeth. Typically, a permanent implant denture needs between four and eight implants for support.
Removable Implant Dentures
An implant denture can also be designed so that you can take it out yourself at any time, making it ideal for patients who have previously worn a traditional denture and don't wish to change their routine. This solution often doesn't require as many implant posts as fixed implant dentures, so it may be more suitable for patients who have lost bone density in their jaws.
The Implant Denture Process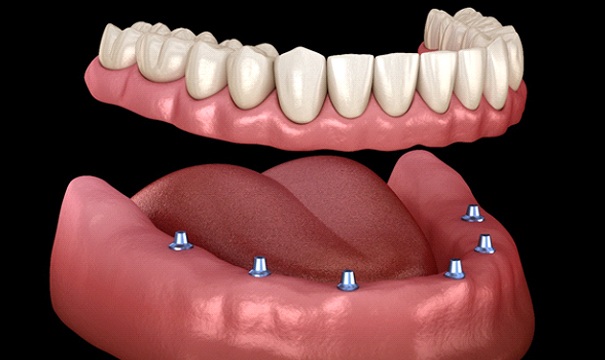 The details of your implant denture treatment can vary, but generally, it will look something like this:
You'll attend a consultation, where we'll evaluate your candidacy for dental implants in Boston and walk you through your treatment.
If you need any preparatory procedures, such as bone grafting, we'll take care of those before your implant surgery.
Our in-house periodontist, Daliah Salam, will surgically position the implant posts in specific locations in your jawbone.
The tissue and bone in your jaw will grow around the implants until they're firmly attached. This process, called osseointegration, can take up to six months.
We'll place attachments on top of your implants and capture digital impressions to design your denture.
Once your prosthetic is ready, we'll secure it into place, giving you a complete smile.
Am I a Candidate for Implant Dentures?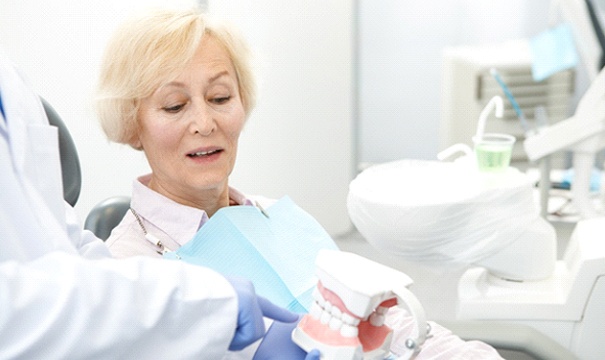 If you're frustrated with your current denture, we encourage you to ask us about upgrading to an implant denture. The ideal candidate for implant dentures has good oral and overall health as well as a strong jawbone. However, even if you don't meet these criteria initially, we offer plenty of treatments that can increase your eligibility. It never hurts to schedule a consultation and learn more!
Benefits of Combining Dentures with Dental Implants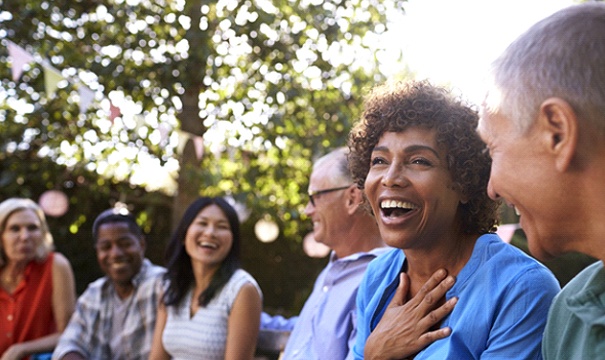 Implant dentures solve virtually all of the common complaints that patients have about conventional dentures. Namely, implant dentures:
Will reliably stay in place without shifting or falling out
Restore more of your original biting force, making it easy to chew a variety of foods
Can last for an average of 30+ years with the right care
Keep the jawbone strong and healthy