New Dental Patient Information – Boston, MA
Making Your First Appointment
Simple to Navigate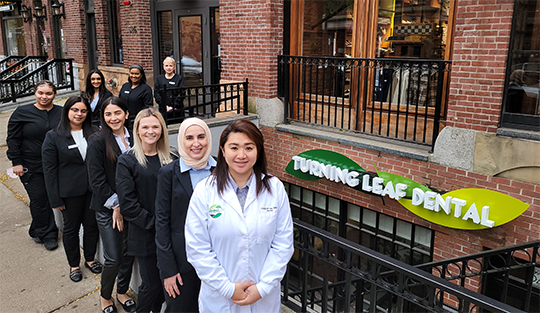 Are you ready to schedule an appointment with our team at Turning Leaf Dental? After you do, be sure to check back on this page to get all of the important information you'll need to prepare you for the visit, like new patient forms and dental insurance details. If you have any questions or need help accessing documents on this page, don't hesitate to reach back out to our team—we'd be happy to help!
Your First Visit
This is where our dental office really stands apart from so many others. When you reach our dental office, we'll collect any new patient information and input it into our computer system before bringing you back to one of our treatment areas. From there, your dental assistant and dentist will spend all the time that is needed to make sure each of your concerns are addressed. We'll conduct a thorough evaluation of each tooth as well as all of the tissues in the mouth, including the gums. If x-rays are needed, we'll use digital, low-dose technology to capture the images and our digital camera will be used to walk you through everything we are seeing, so we're all on the same page. Should you need any care beyond a routine cleaning, we'll establish a step-by-step plan that will get you back on track and our insurance experts will make sure that your insurance benefits are maximized for any of the care that you choose to have completed. You'll leave your appointment with a clear understanding of your needs, our solutions and exactly what the cost will be so there are no surprises. Again, our dedication to spending quality time with our patients is what sets us apart and you can be sure that our dentists won't just stick their heads in to say hello.
Dental Insurance
Our dental office accepts nearly every dental insurance plan and we invest enormous resources to file insurance claims on your behalf to maximize your benefits. Of course, we complete complimentary benefits checks for all of our patients, so please call our dental office if you would like us to do that before your appointment.
We accept with the following insurances:
Delta
Blue Cross Blue Shield
Cigna
And Many more
Don't see yours? Call our friendly team to ask if we accept your insurance – we accept nearly every plan!
Learn More About Dental Insurance
Financing Flexibility with Wisetack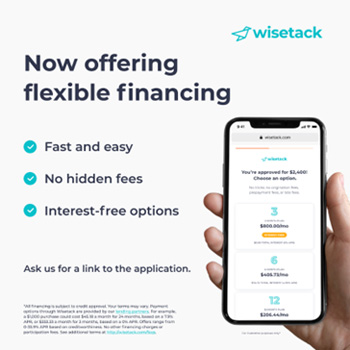 We partnered with Wisetack to offer our patients flexible financing options, so you can pay over time rather than all at once for treatment. The application takes about a minute to complete, and checking your options does not impact your credit score.
Finance treatments up to $15,000*
Terms from 3 to 24 months*
Offering 0% APR*
No hidden fees or compounding interest
Prequalify today with no impact to your credit and contact us to learn about financing your next treatment!
*All financing is subject to credit approval. Your terms may vary. Payment options through Wisetack are provided by our lending partners. For example, a $1,000 purchase could cost $45.18 a month for 24 months, based on a 7.9% APR, or $333.33 a month for 3 months, based on a 0% APR. Offers range from 0-35.9% APR based on creditworthiness. No other financing charges or participation fees. See additional terms at http://wisetack.com/faqs.
CareCredit Financing
If you're receiving a dental treatment that isn't covered by your dental insurance benefits, you don't have dental insurance, or you'd like to make more flexible monthly payments on your treatment, ask us about our financing options!