Dental Implants – Boston, MA
Permanently Replace Your Lost Teeth
Getting new teeth after your natural ones are lost or removed is quite the relief. But how long will your new restoration last? In the case of traditional bridges and dentures, you can usually expect them to last about 5 to 10 years. Are you looking for a more permanent solution? Turning Leaf Dental can offer you one in the form of dental implants. Call us today to schedule a consultation to discuss dental implants in Boston, MA and start setting the roots for a beautiful, sturdy new smile.
Why Choose Turning Leaf Dental
for Dental Implants?
Skilled and Caring In-House Periodontist
Implants Placed and Restored Under One Roof
Dental Office Open on Saturdays and Early Mornings
What are Dental Implants?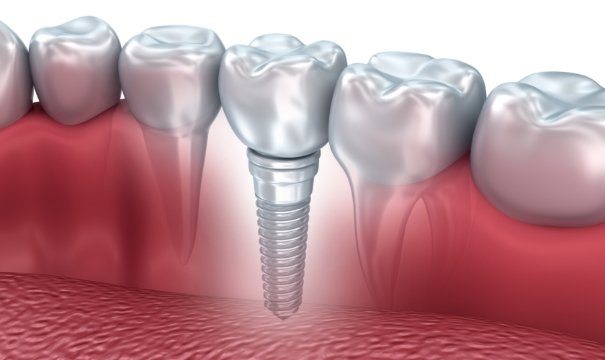 What we refer to as dental implants are actually made up of three different components: an implant post, an abutement, and an implant restoration. The implant post is surgically placed in the jaw and fuses with the bone. The restoration that will act as the replacement tooth or teeth is attached to the post via the abutment. Implants allow us to replace the entire structure of the tooth including the roots, which is essential if you want your prosthetic to look, feel, and function like the real thing.
The 4 Step Dental Implant Process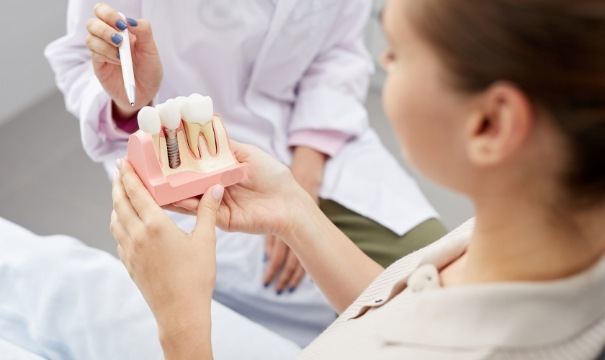 Consultation: You will come into our dental office so that we can look at your mouth and determine how many teeth need to be replaced. We'll determine whether or not you're a viable candidate for implants before creating a treatment plan.
Surgery: The surgery will be performed in-house, allowing you to stay with the team you already trust. Implant placement surgery simply involves exposing a very small portion of the jawbone so the implant post can be placed before closing the gums again.
Osseointegration and Abutment Placement: After about 3 to 6 months, the implant will have fully fused (osseointegration) with the jawbone, and at that point we can put an abutment on the post.
Final Restoration: Impressions will be taken after your mouth has healed. The final restoration will be customized to be indistinguishable from the rest of your teeth.
Benefits of Dental Implants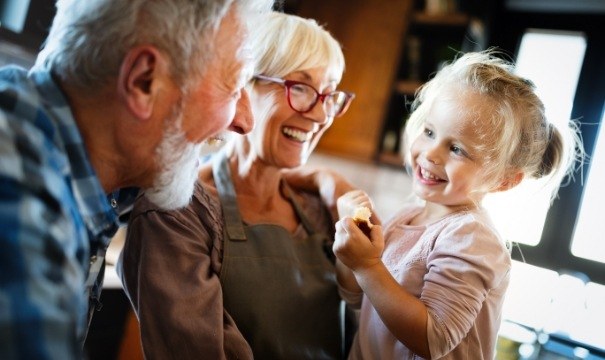 Dental implants are becoming one of the most popular ways to replace missing teeth. Thanks to their unique placement in the jawbone, this modern tooth loss solution can provide a wide array of benefits that you can't experience with traditional dentures or dental bridges. Here are just some of the ways that dental implants can improve the overall quality of your life.
Day-to-Day Benefits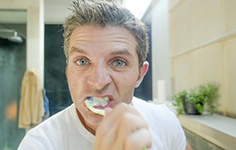 Once your dental implants have completely fused to the jawbone and your gum tissue has finished the healing process, they should feel just like your natural teeth. You can do pretty much anything you did before you lost your teeth. Here are just some of the exciting benefits you can experience every day!
Easy to Maintain: Caring for dental implants is very similar to caring for your natural teeth. Just brush, floss, and rinse with mouthwash every day. Remember to keep up with your regular cleanings and checkups.
Improved Bite Force: You can restore your bite force by up to 90% when you get dental implants. This is much more than you can achieve with dentures or dental bridges.
Increased Confidence: Confidence affects every part of your life. When you replace your missing teeth with dental implants, you can show off your smile with pride again!
Health Benefits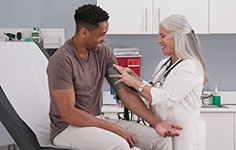 Dental implants have a positive influence on your health. Here are just some of the ways that your whole body can benefit from this procedure:
Better Oral Health: Missing your teeth encourages other dental problems to arise. This can include misalignment, gum disease, infection, and additional tooth loss.
Improve General Health: Your oral health and general health go hand in hand. By keeping your smile healthy, you can reduce your risk of numerous life-threatening health problems, like diabetes and heart disease.
Strong Jawbone: When you lose your teeth, you will eventually suffer from jawbone resorption. Implants keep your jawbone stimulated while you chew, allowing it to stay strong and healthy.
Long-Term Benefits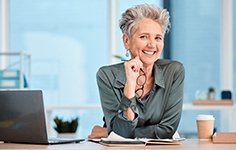 Dental implants are an investment in the future of your smile. Many patients benefit from them for the rest of their lives! Here are some of the benefits that you can experience for many decades to come:
Long-Lasting: Dental implants are a permanent solution to tooth loss. You can enjoy their benefits for many years down the road.
Successful: The success rate of dental implants is over 95%! You are very unlikely to experience a dental implant failure.
Financial Benefits: There is no need to stock up on adhesives or soaking solutions when you have dental implants. You also shouldn't have to worry about routine repairs and replacements. Dental implants last for a long time, so you can save quite a bit of money!
Who Dental Implants Can Help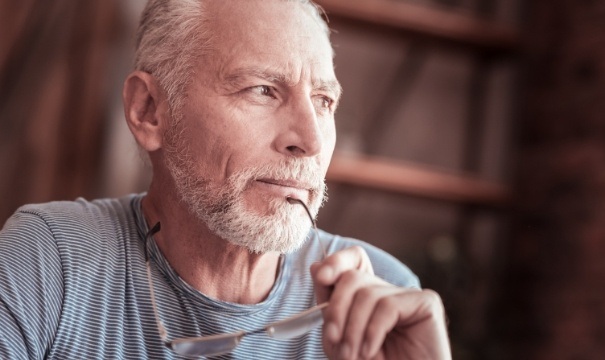 Dental implants can help almost anyone who has lost a single tooth or multiple teeth. First, we'll have to confirm that your mouth is healthy, your jawbone is in good condition, and your body isn't suffering from any conditions that might interfere with the healing process. There are preliminary procedures such as bone grafts that you might need to undergo before implant surgery depending on the state of your mouth. Below are the different kinds of implant procedures that we offer:
Missing One Tooth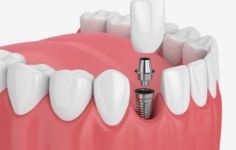 After a dental implant has fused with the jawbone and has been restored with a dental crown, it can effectively replace a single tooth. Implant teeth have the same strength as real teeth, so you can go ahead and eat anything you want after you receive the final prosthetic.
Missing Multiple Teeth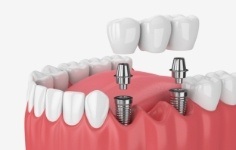 An implant bridge can be used to replace three or four teeth in a row. The bridge will use a pair of implants for support instead of natural teeth, meaning no enamel has to be removed. For this reason, an implant bridge is considered a healthier alternative to a traditional bridge.
Missing All of Your Teeth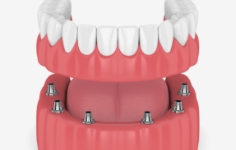 Four to six dental implant posts make all the difference for your dentures. While traditional dentures will let you eat and speak just fine, implant dentures eliminate the risk of slipping and allow for a more nutritious and varied diet. Implant dentures can be removable or fixed in place depending on your needs.
Understanding the Cost of Dental Implants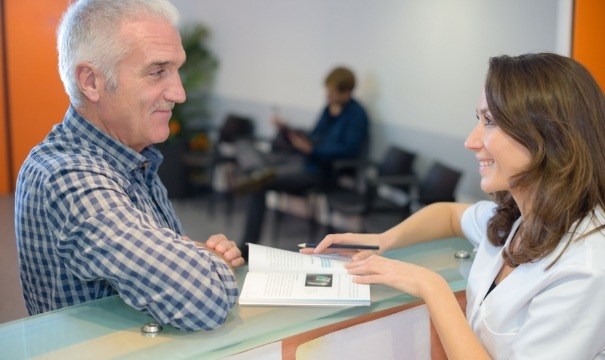 Dental implants are a remarkable tooth replacement treatment that has already helped countless individuals to regain full dental function. Unfortunately, many people hesitate to commit to dental implants because they are concerned about cost. While it is true that this treatment comes with a significant price tag, it is worth the investment. And as you'll discover, dental implants in Boston may be easier to fit into your budget than you think.
Preliminary Treatments & Dental Implant Surgery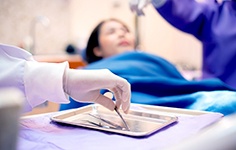 If bone grafting, tooth extractions, gum disease therapy, or other procedures are needed in addition to implant surgery, those costs will have to be accounted for as well. While they will add to the overall price of your treatment, they're essential for the long-term success of your new smile. The good news is that most preliminary treatments are partially covered by dental insurance.
Since we're able to complete the entire process from start to finish, you don't have to worry about paying another specialist for dental implant surgery. We'll work with you to make your treatment as affordable as possible.
The Parts of Your Dental Implant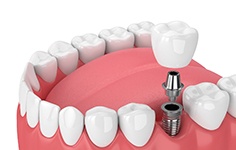 The overall price of your treatment is influenced by several factors, including:
Number of Implants - You can expect to pay a different amount for an implant and crown than for multiple implants and a full denture.
Type of Restoration – A crown, bridge, and denture each cost a different amount. Generally speaking, the smaller the restoration, the less expensive it is.
Material – Dental implants made of zirconia are usually more affordable than those made of titanium.
Brand – Different manufacturers make dental implants differently to cater to the unique needs of each patient. At your consultation, feel free to ask about any brand-specific benefits.
How Dental Implants Can Save You Money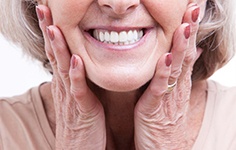 The true value of dental implants lies in their longevity. As long as you practice good oral hygiene and take care of the implant posts, you can count on them to last for decades without having to worry about paying for a replacement. Unlike other methods of tooth replacement, you don't have to buy special products to care for your new smile. All you have to do is brush, floss, and rinse like you would with natural teeth!
Does My Dental Insurance Cover Dental Implants?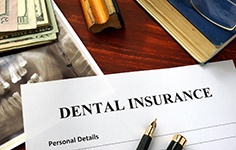 Although most dental insurance plans don't typically cover dental implants, there are a few exceptions. For example, parts of the final restoration or certain preliminary treatments may be covered. Our team is more than happy to review your benefits and help you figure out how to maximize them.
Making Dental Implants Affordable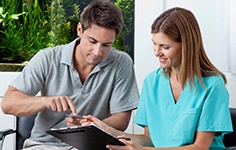 At Turning Leaf Dental, we want to make dental implants as affordable as possible. Our goal is to help you avoid breaking the bank, which is why we offer third-party financing through CareCredit. It allows you to split up the total cost of your care into smaller monthly installments. Best of all, each plan often comes with little-to-no interest attached! It's a great way to make even the most expensive treatment fit any budget.
Advanced Dental Implant Procedures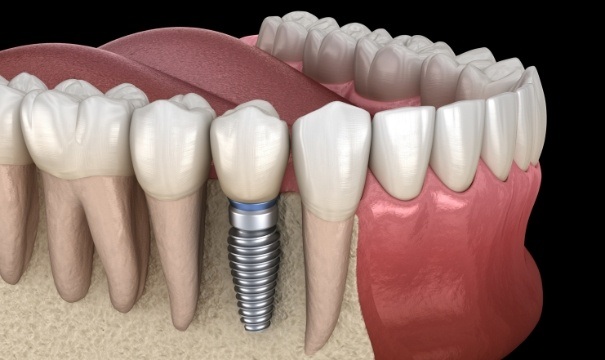 Sometimes dental implant surgery can be performed right away. However, if you have already experienced some bone loss, some additional procedures might be required to make sure that your jaw is capable of successfully supporting dental implants. Find out more about some of the advanced dental implant procedures that might be part of your implant treatment plan.
Bone Grafting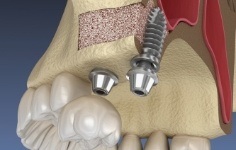 Once a tooth is lost, the bone that was around it start to deteriorate. A lack of healthy bone tissue is a significant obstacle for dental implant placement. Bone grafting reverses bone loss by replacing the lost tissue with material taken from elsewhere in your body (or from a donor's body).
Ridge Augmentation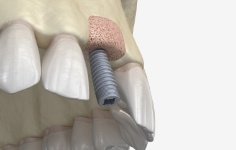 After a tooth extraction, some of the natural contour of the gums and jaw might have been lost, and there's a risk that bone loss will occur before new dental implants are placed. Ridge preservation involves placing bone graft material in the tooth socket immediately after extraction so that bone grafting isn't required later.
Sinus Lift Surgery/ Augmentation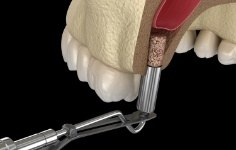 If the tooth in question was in the upper jaw near the back of the mouth, then a lack of space near the sinus cavity might be an additional concern when placing dental implants. A sinus lift simultaneously reverses bone loss in the area and also moves the sinus cavity away from the spot where the implant needs to be inserted.
Dental Implant FAQs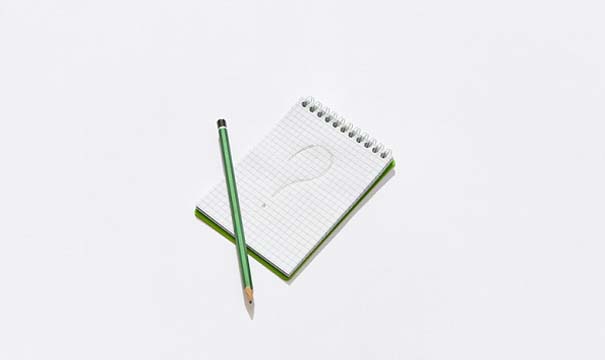 Dental implants in Boston can permanently replace your lost teeth, but they are a big commitment. It's normal to feel a little apprehensive about the road ahead, but there's no reason to worry. We strive to help you feel 100% confident in the decision you're making. While you wait for your dental implant consultation , here are the answers to a few frequently asked questions.
Can I take dental implants out?
No, you can't remove a dental implant on your own. It is unlike any other procedure because it replaces both the root and crown. A titanium post is surgically placed into your jaw. Your bone will fuse to the post through a process called osseointegration. The post can remain in place forever with the right maintenance. Although some implant dentures can be taken out for cleaning, only a dental professional can remove the post.
How long do dental implants last?
On average, dental implants have over a 95% success rate. They are proven to last for 30 years or more with the right aftercare, like maintaining your oral hygiene. Various factors affect their lifespan, like your oral and general health. The location of the implant can also influence its longevity. Molars undergo more pressure from daily wear and tear. As a result, dental implants in the back of the mouth have a slightly shorter lifespan than those placed in the front. You can protect your investment by brushing, flossing, and using a daily mouthrinse. It's best to avoid anything that may compromise your new smile, like smoking, using your teeth as tools, or eating hard foods. Don't forget to visit your dentist at least twice a year for a cleaning and checkup.
Am I too old to get dental implants?
There isn't an age requirement for dental implants if you've finished growing. Many patients well into their retirement can get dental implants; however, some cases can be more complex than others. With age comes certain medical issues, like diabetes or cancer, which can compromise your body's ability to heal and fight infections. Some medications used to treat age-related conditions can also suppress the immune system. If you are older or have pre-existing conditions, they don't disqualify you from getting dental implants. Instead, your implant dentist in Boston will take specific precautions to minimize the risk of complications. They'll review your health and medical history during your consultation to create a personalized plan to ensure your safety and the success of your procedure.
What should I do if my dental implant feels loose?
After your jawbone has integrated with the dental implant, it should never feel loose. If your dental implant doesn't feel stable, it's not an issue to ignore. While it may be something as simple as a damaged restoration, it can also indicate a serious problem that can lead to dental implant failure. It's best to contact our office right away. We will find the source of the sensation to provide the intervention you need to save your smile.