Emergency Dentistry – Boston, MA
Get the Care You Need Immediately
You can't plan for a dental emergency, as it can happen at any time. You can only make sure that you're prepared for the worst-case scenario, and one of the most important preparations you can make is having an emergency dentist that you can call immediately. At Turning Leaf Dental, we can provide same-day appointments for patients with toothaches, damaged teeth, and other urgent dental problems. Thanks to our advanced technology, skilled dental team, and variety of treatments, we can quickly get to the bottom of your dental pain to find a solution with emergency dentistry in Boston, MA.
Why Choose Turning Leaf Dental for Emergency Dentistry?
Accessible Street-Level City Dental Office
Open Every Saturday and Early Mornings
Wide Range of Advanced Dental Procedures
How We Treat Dental Emergencies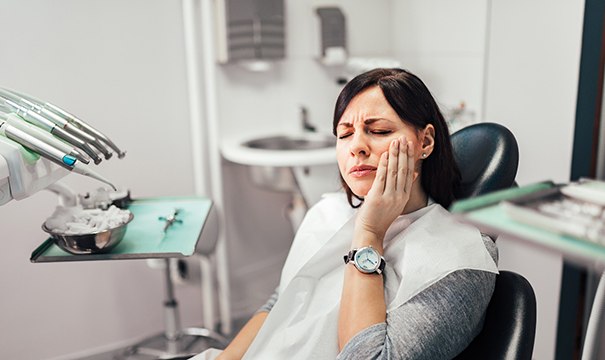 When you're dealing with dental pain or damaged teeth, we'll follow these steps to restore and/or protect your grin:
Same-Day Appointment: We'll make arrangements to see you as soon as we can. Ideally, we'll bring you into our office on the same day. Don't worry if you need urgent care during the weekend; we're open on Saturdays.
Emergency Exam: At your emergency appointment, we'll take a close look at your teeth, gums, and jaw. Our team will help soothe your pain while looking for the heart of the issue.
Review Findings: Once our examination is complete, the next step is to create a treatment plan. We'll explain what's going on in your mouth, what services you need, how much you'll likely have to pay, and the estimated timeline of each suggested treatment.
Get the Care You Need: In order to put a stop to your pain and help you avoid further damage, we'll quickly carry out whatever treatments have been deemed necessary.
The Most Common Dental Emergencies
What does the term dental emergency mean to you? Does it involve a sudden blow to the mouth, or is it a result of poor oral hygiene? The truth is that there are many different kinds of emergencies, and you'll want to be familiar with some of the more common ones so that you can act quickly and appropriately when the time comes. Here are some examples:
Understanding the Cost of Treating Dental Emergencies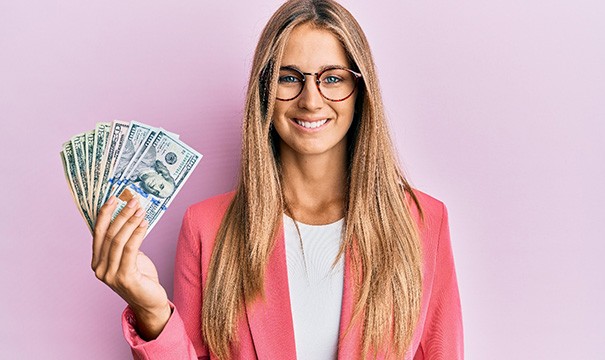 When you're in the midst of dealing with a dental emergency, the last thing that you want to have to think about is the cost of treatment. Thankfully, we're here to look out for you—everyone here at Turning Leaf Dental understands that you have a budget, and we'll do everything we can to make necessary treatments affordable for you.
We'll discuss costs with you in detail when you see us for your emergency appointment, but here are some things you may want to know about the price of dental emergencies until then.
Every Dental Emergency Is Different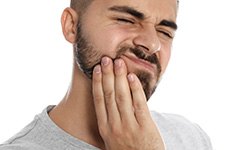 First of all, it's important to understand that the term "dental emergencies" is a catch-all for a variety of issues requiring urgent attention. As such, an emergency can constitute any of a number of different treatments, each of which varies in cost. These treatments can be as simple as fillings and antibiotics, or as complicated as tooth extractions or TMJ treatment.
We'll talk with you about your options before beginning any kind of procedure and will make sure that you understand the costs each one entails.
Does Dental Insurance Cover Dental Emergencies?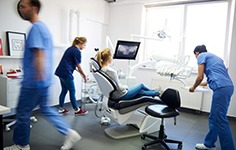 For the most part, dental emergency treatment falls well within the realm of what your dental plan will cover. While every insurance company is different, most of these procedures are considered restorative, meaning that plans will cover anywhere between 50-80% of the total cost.
We know navigating insurance can be difficult, so we'll help you filter through the paperwork and will ensure that you're getting the care that you need.
Other Options for Making Dental Emergencies Affordable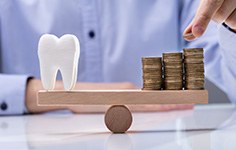 However, you may not have insurance, or you may have already hit your yearly maximum for what it's willing to pay out. If so, that doesn't mean that you have to just suffer with whatever oral health problem you're dealing with.
We offer financing through CareCredit which, if you're approved, will be able to break the cost of treatment into several low-to-no-interest payments. This can make paying for dental care that may not otherwise be affordable much easier.
Taking Care of Your Smile Can Save You Money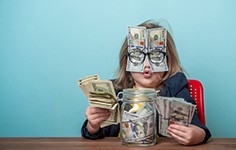 It's important to point out that dental emergencies are often a result of something that could have been prevented with regular maintenance. While some issues are obviously unavoidable, your run-of-the-mill toothache is typically a consequence of an oral infection that's been in the mouth for a while.
If you want to save money on root canals or tooth extractions, it's important to remember that prevention is the best medicine. Most dental plans cover regular checkups and cleanings, so seeing your dentist more often is one of the best things you can do to make taking care of your teeth cheaper in the long run.
Keys to Preventing Dental Emergencies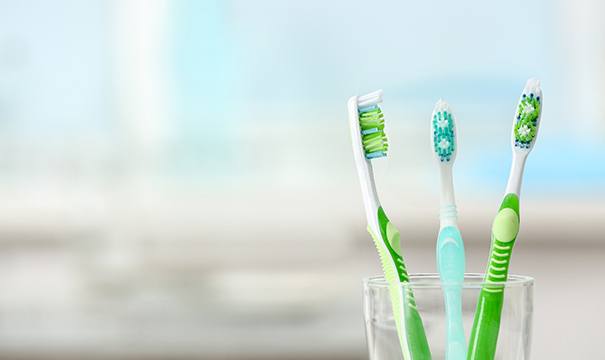 Preventing a dental emergency is always better than managing one. The former option saves you a lot of time, money, and hassle! That said, maybe you don't know how to go about it. Fortunately, the process is easier than you might think. It's just a matter of practicing the right habits. As for what these are, just keep reading or call our office to find out.
See Your Dentist Regularly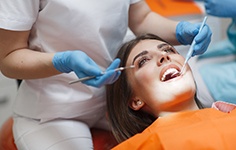 You may think frequent dental checkups are annoying or a waste of time. In truth, though, they're perhaps the best way to prevent dental emergencies.
Remember, checkups with your dentist are the peak of oral preventive care. They diagnose and treat minor dental issues before anything worsens. As a result, the visits keep severe oral problems – tooth infections, gum disease, etc. – from occurring. They thus reduce your odds of facing a dental emergency.
Maintain Good Oral Hygiene at Home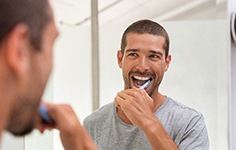 Cleaning your teeth at home doesn't just help them look nice. In reality, good oral hygiene also lowers your risk of a dental emergency.
For good home oral care, just adhere to traditional practices. First, brush your teeth twice daily with fluoridated toothpaste. Also, make sure to floss between your teeth once daily. Don't forget to rinse with ADA-approved mouthwash, either! Taken together, these habits make you less likely to develop cavities, gum disease, or worse.
Stick to a Nutritious Diet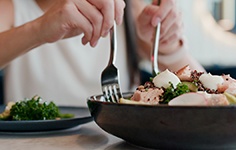 Unfortunately, poor eating can lead to dental emergencies. A sugar-induced cavity, for example, can lead to infections. Similarly, acidic beverages like soda and energy drinks erode enamel and make teeth sensitive. If you're not careful, then, a poor diet can send you to the emergency dentist.
Fortunately, you can avoid this outcome by sticking to a nutritious diet. Foods like lean proteins, dairy products, and leafy greens don't decay teeth. Instead, they have nutrients that strengthen both your enamel and your gums.
Wear a Mouthguard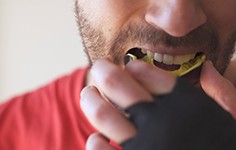 You'd be surprised at how vulnerable teeth are to injury. For instance, a sporting event can harm your smile with a blow to the mouth. On the other hand, grinding your teeth at night may cause them to crack or chip.
Thankfully, it's possible to prevent such incidents with mouthguards. One for sports would prevent mouth injuries due to player falls and collisions. Meanwhile, a "nightguard" could prevent you from grinding your teeth while asleep.
Use Tools, Not Teeth, to Open Packages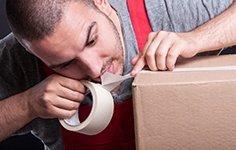 If you need to open a package, you might be tempted to use your teeth. However, doing so is a grave mistake. Biting on containers, bags, and other packaging wears down your enamel. If you're not careful, you could end up with a chipped or cracked tooth.
Given these facts, don't ever use your teeth as tools. They should only ever bite food and oral appliances, not cardboard, tape, or plastic packages.
Root Canals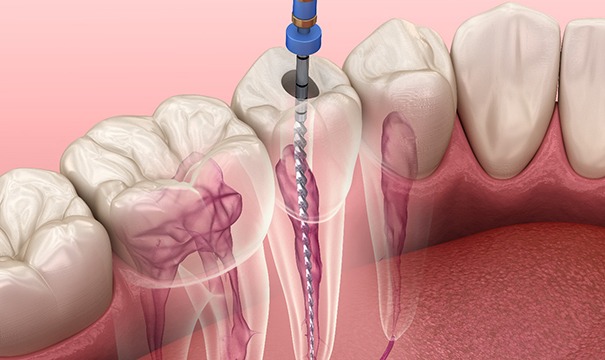 An infected tooth tends to cause a lot of pain, and it can eventually lead to life-threatening problems if the infection spreads beyond the roots. Root canal therapy makes it possible to stop the infection without losing the tooth; all we need to do is numb the mouth, make an opening in the enamel, and take out the diseased tissue before thoroughly cleaning the inner chamber. Don't be afraid if you're told you need root canal therapy. Despite the procedure's reputation, it actually helps stop dental pain instead of causing it.
Tooth Extractions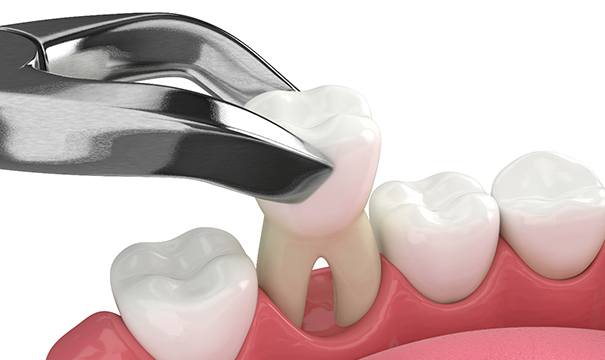 We don't take the decision to remove a tooth lightly. While we do have plenty of options for filling in any gaps in your smile, it's always better to save the natural tooth when the option is available. Extractions are reserved for situations where there's no other choice, such as a tooth that can't be repaired with a crown or an infection that has already done too much damage for root canal therapy to stop. After the extraction process (which we'll make sure is completed with as little discomfort as possible), we will discuss your options for replacing the tooth.
Dental Emergency FAQs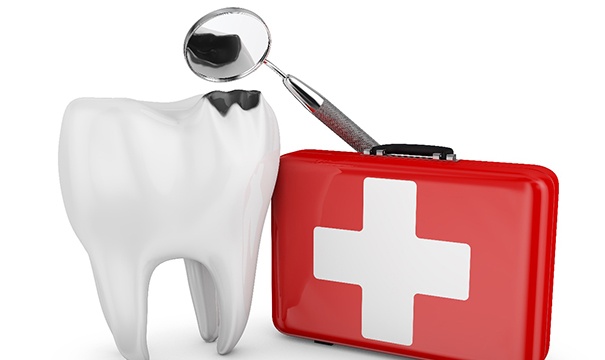 Experiencing a dental emergency can come with a lot of unknowns and questions. At Turning Leaf Dental, we want to answer most of these questions for you. We invite you to read our responses to some of the ones that many patients have asked us in the past. If you have others we haven't explained here, or if you have a dental emergency that requires immediate attention, please contact our Boston office. We'll provide the guidance and treatment you need as quickly as possible.
When Would I Need to Go to the Emergency Room?
In the strong majority of cases, the best place for you to go for a dental emergency is our office. The emergency room will likely not have the training or equipment to treat these kinds of problems. However, if you have oral bleeding that persists after 10 minutes, or if you break facial bones, then you should head to the emergency room. These are more serious injuries that require medical attention first. Afterward, we can deal with any remaining dental issues.
How Can I Sleep with a Toothache?
As much as possible, we try to treat emergency patients on the same day as their call. But what if your toothache shows up after our office hours? Tooth pain can be overwhelming, and if you need to make it through the night before coming in, you could be up instead of getting the rest you need. Luckily, there are some ways to ease your discomfort. Make sure you take an over-the-counter pain reliever and rinse your mouth with warm saltwater before going to bed. You can also put a cold compress on your face to numb the area. These steps should help you get at least a little sleep.
What Could Happen If I Wait for Emergency Treatment?
Especially if you have financial concerns, the idea of postponing treatment may seem like a smart choice at first glance. However, in most cases, the longer you wait to address a dental problem, the worse it becomes. As previously stated, a small cavity that could be resolved with a filling today is not going away on its own. It will continue to expand, possibly necessitating a crown, root canal, or even extraction later on. Likewise, a small crack or chip could cause more damage with time and cost more to fix the longer you wait.
Is a Dental Emergency Expensive?
It depends on what issue you have and how severe the case is. Again, the sooner you treat a dental issue, the less it is likely to cost. We are proud to accept most PPO dental insurance plans, which should help with some of the costs of treatment, but keep in mind that you may still be responsible for paying about half of the price out-of-pocket. If you need additional flexibility, we can help you apply for financing, dividing the total into monthly payments.