Dentures – Boston, MA
Replace Your Teeth Without Breaking the Bank
Tooth loss affects approximately 178 million people in the United States alone, including 40 million Americans who are missing all of their teeth. Fortunately, just because you have previously suffered from tooth loss doesn't mean that you will need to struggle with daily tasks like eating, speaking, and smiling forever! At Turning Leaf Dental, we offer high-quality dentures to replace your teeth without breaking the bank. To learn more about how dentures in Boston can restore the appearance and function of your smile, give us a call to get started with your initial consultation!
Why Choose Turning Leaf Dental for Dentures?
Dental Implant Dentures Available
Customized for Natural, Life-Like Appearance
Dental Insurance and Other Financing Options
Who is a Good Candidate for Dentures?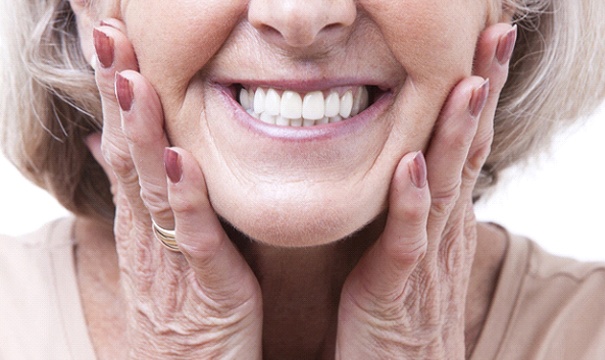 Dentures are recommended for patients who are missing several, most of, or all of their teeth. Depending on how many teeth you are missing and where they are located in the mouth, a custom plan will be created just for you to improve the appearance and function of your smile. If you are dealing with any existing oral health issues, like tooth decay or gum disease, they will need to be treated before you can move forward in the process of getting dentures. Our number one priority is always the health of your smile!
Types of Dentures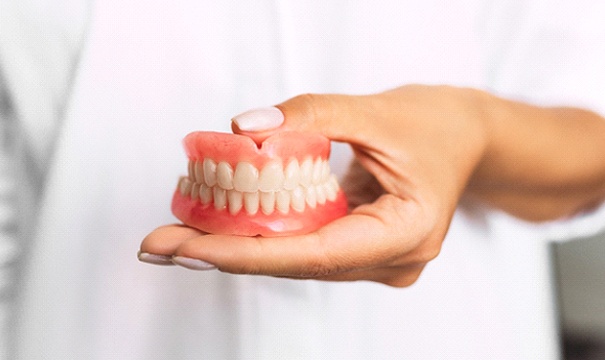 There are a few different types of dentures available to cater to the unique needs of each patient. During your consultation, we will determine which of these would be best for you.
Partial Dentures
For people who've suffered from tooth loss but still have some remaining teeth, a partial denture is likely ideal. This type of denture has an acrylic or metal base and is designed to fit like a puzzle piece between your existing teeth to fill in gaps. Small, discreet clasps will wrap around your natural tooth structure to hold your restoration firmly in place.
Full Dentures
Full dentures are crafted to restore an entire arch of missing teeth. They are held into place by the shape and suction of your gum tissue. Just like partials, full dentures are made from a gum-colored acrylic base that holds natural-looking replacement teeth in place.
Implant Dentures
If you're missing teeth but looking for a sturdier, longer-lasting option to replace them, dental implant dentures are a probable solution. This type of denture is held into place with titanium, screw-like implants that are surgically placed into the jawbone to act as tooth roots. They allow for additional chewing power and prevent bone loss from occurring over time.
The Benefits of Dentures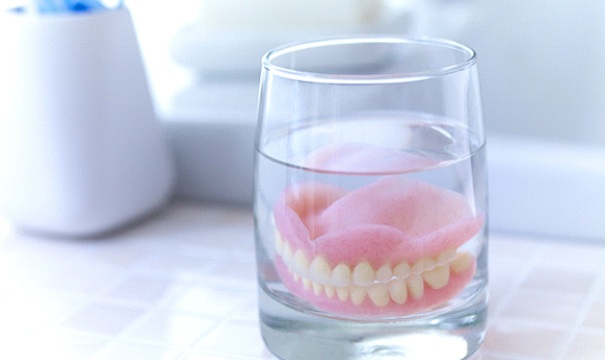 There are all sorts of benefits that you can expect to experience when you get dentures. Here are just a handful of them:
Supports facial muscles
Makes it easier to eat
Prevents movement of surrounding teeth
Covered by most dental insurance plans
Increases confidence
Removable for easy cleaning
Improves ability to speak
Appears natural and lifelike
FAQs About Dentures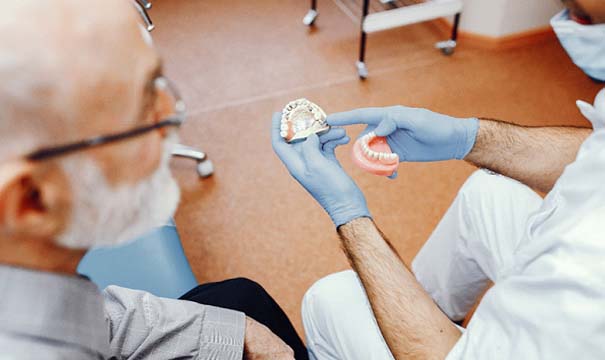 Are you ready to replace your teeth without breaking the bank? Then give us a call to schedule your denture consultation ! Choosing how to rebuild your smile is a big decision, so we understand if you have some questions that you need answered before you're ready to commit to a treatment plan. We'll be more than happy to give you all the information you need and walk you through the entire process during your appointment. In the meantime, we've gathered some of the most common questions we get about dentures below so you can learn more about them.
How Long Do I Have to Wait to Get Dentures After Teeth Are Pulled?
In situations where we do recommend one or more tooth extractions before getting a denture, we will likely recommend that you heal completely before moving forward with replacing your teeth. Your mouth will be slightly swollen once the teeth are extracted, which would lead to inaccurate impressions that create denture that don't fit snugly. Usually, you'll need to wait six to eight weeks before getting dentures after having your teeth extracted.
Does It Hurt to Get Dentures?
The process of getting dentures is a quick, easy, and relatively painless one. When you are first fitted for your new dentures, it's common to experience minor discomfort and irritation in your gums or the other soft tissues in your mouth. However, the soreness should be mild, easily managed with cold foods or over-the-counter pain medications, and will fade on its own as your mouth adjusts. If you are still experiencing discomfort after a month of wearing your dentures, give us a call.
Can I Eat Steak with Dentures?
Steak may be delicious, but this tough and chewy meat can be difficult to eat even for people who have all their natural teeth. Steak can destabilize your dentures and cause sore spots on your gums if you're not careful. However, you don't have to give up steak completely! You'll need to cut your steak into smaller pieces and practice chewing slowly and evenly. With some time and practice, eating steak should pose no significant challenge to you or your new smile.
Can I Sleep with My Dentures In?
When you are first adjusting to life with your new dentures, we will recommend that you wear them 24 hours a day for a little while. This adjustment period will vary from patient to patient, so be sure to follow our guidelines. After about a week or so, you will need to switch to taking your dentures out every night before bed. It may seem like an inconvenience, but not sleeping with your dentures give your gum tissue time to rest and restore itself. Plus, an overnight soaking is the best way to clean out all the plaque, bacteria, and food debris that has built up in the nooks and crannies throughout the day.