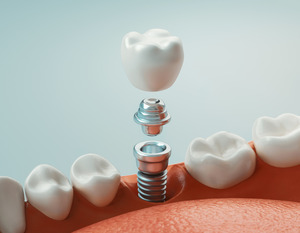 Are dental implants the best choice for re-completing your smile? This is a question that requires a lot of careful consideration. Before you make a choice, you need to make sure that it's based on solid facts. There are quite a few popular misconceptions about dental implants out there; here's the truth behind 5 of these myths.
1. Only Elderly People Can Get Dental Implants
Some people believe that dental implants are only a viable option for elderly people. However, as long as you're an adult with a fully developed jawbone, you can get dental implants at any age. Far more important is the current state of your jaw; you need to have a sufficient amount of bone density for dental implant surgery to be successful.
2. People Will Be Able to Tell That You Have Dental Implants
Even though dental implants aren't made of organic material, they're still known to look extremely lifelike. The restoration that the dental implants support (which can be a crown, bridge, or denture depending on the situation) will be made out of materials that mimic the color and light-reflecting properties of real teeth, making it virtually indistinguishable from the rest of your grin.
3. Dental Implants Require Special Care
It's easy to assume that dental implants require specialized maintenance, but the truth is that the care they require isn't much different from what you already do for your natural teeth. You just need to brush and floss every day to keep the area around your dental implants clean; this helps keep the risk of gum disease to a minimum. You will also need to keep up with your regular dental appointments so that your dentist can make sure your dental implants are still in good condition.
4. Dental Implants Won't Let You Enjoy All of Your Favorite Foods
It's true that when you first get dental implants, you'll be told to only eat soft foods while your mouth is recovering. However, after the dental implant posts have completely integrated with the jawbone and the final restoration(s) have been placed, you'll be able to eat almost anything you want. This is thanks to the fact that dental implants can provide up to 90% of the full chewing power of natural teeth, making them capable of handling most foods without issue.
5. Dental Implants are Not Affordable
Dental implants might have a higher initial cost than traditional bridges and dentures, but there are ways to fit them into your budget more easily, such as using dental insurance to help pay for certain parts of the process. Additionally, dental implants can ultimately help you save money since they last longer than traditional bridges and dentures, meaning fewer replacements are required.
About the Author
Dr. Daliah Salem is proud to help patients at Turning Leaf Dental in Boston enjoy beautiful smiles that last a lifetime. As a periodontal specialist, she can place dental implants to replace any teeth that are missing. You can schedule a consultation with Dr. Salem today by visiting her website or by calling (617) 536-5182.