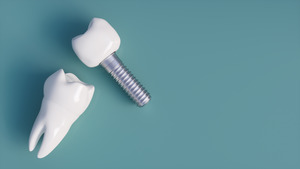 If you lose your front teeth to physical trauma, gum disease, or tooth decay, you'll be left with an embarrassing gap at the most prominent spot in your smile. Additionally, missing front teeth can hurt your ability to speak properly or bite down on a variety of foods. So what can you do about the empty space? Are dental implants a viable option? Your dentist has the facts.
What Exactly are Dental Implants?
A dental implant is a small post used to replace missing teeth from the roots up. The post is normally made from titanium, a biocompatible metal that can fuse with the jawbone. Dental implants can be used in a variety of tooth loss situations; when there's just one tooth missing, a single implant post is placed in the gap and restored with a custom-designed crown.
Can the Front Teeth Be Replaced with Dental Implants?
Dental implants can indeed be an option when you've lost your front teeth. In fact, in many cases they are considered the best choice for doing so. A traditional bridge would only replace the top part of a missing tooth; dental implants can perform the same functions as natural tooth roots, making them a much more comprehensive solution.
However, before you begin the process of rebuilding your smile, you'll need to schedule a consultation with a trained periodontal specialist or dentist so that they can make sure that you're a candidate for dental implants. The procedure requires you to have a certain level of bone density in your jaw to ensure that the implant posts get the support they need. Additionally, you need to be in good oral health; gum disease is one of the leading causes of dental implant failure.
If for whatever reason your periodontal specialist or dentist determines that you aren't currently a candidate for dental implants, you might still be able to have them placed once the right steps are taken. Sometimes the issues that are preventing you from having implant surgery done can be corrected through bone grafts, periodontal therapy, and other treatments.
What are the Benefits of Replacing the Front Teeth with Dental Implants?
Choosing dental implants to replace your front teeth will let you enjoy the following benefits:
Prevention of Jawbone Deterioration: The pressure from the dental implants will help stimulate your jaw, thus preventing the bone loss that could eventually cause your face to collapse.
A Natural-Looking Smile: Dental implant crowns are made to resemble your natural teeth as closely as possible. To the outside observer, it will appear as if you were never missing any teeth to begin with.
Long-Lasting Results: Thanks to their durability, dental implants can last for 30 years or more – far longer than other forms of tooth replacement.
The sooner your front teeth are replaced by dental implants, the sooner you can start enjoying life to the fullest again. Reach out to your periodontal specialist or dentist today to begin your dental implant journey.
About the Author
Dr. Daliah Salem is the periodontal specialist at Turning Leaf Dental in Boston. She's able to place dental implants in-house, meaning our patients won't have to drive to a separate office across town for the procedure. She can also perform bone grafts and periodontal therapy. To schedule a consultation with Dr. Salem, visit her website or call (617) 536-5182.